On this page we take a walk down memory lane along West Street in Fareham in the late 1950s and 1960s using my own reminiscences of the time. This places Provincial's operations into context with its operating environment and includes a selection of nostalgic images relating to Provincial buses and street scenes. If you have any further street scenes etc I can use and would like to see here, please let me know.

An aerial view of the eastern end of West Street Fareham, with Quay Street in the centre. This was taken in the early 1970s.
At this time, West Street Fareham was, as today, a busy shopping area the difference being that traffic flowed along the whole street without any pedestrianised areas. A number of Provincial bus routes ran through West Street, the main ones being routes 1 & 3 to and from Gosport Ferry and Fareham West End. Route 17 from Fareham Market to Wynton Way also ran along part of West Street. It came south down High Street to the stop outside the Melgrade, and then turned north up Trinity Street on the return journey. Route 18 to Knowle Hospital started outside International Stores in West Street and then ran North up High Street, returning south via Trinity Street. Routes 6, 10 and 15 also ran along West Street.
Our journey begins at Fareham Railway station, and we will travel east along West Street to the Corner House Bakery at the junction with High Street/Union Street. We will return westwards to the station.
As we leave the station approach we pass the spot where the trams from Gosport used to terminate. On the left (where today's Fire Station is located) is a small brick built office of JE Smith and Sons, coal merchants. They had a yard at Fareham station where coal trucks would be offloaded. At this time, there is a bus stop here serving the railway station, this was before the roundabout was built. Proceeding down West Street, crossing Grove Road we come to the first of the shops, which are set back from the road. I can't remember many of these, but I do remember Abinett's the chemist and a cafe along here called the Cresta Run. This was a coffee bar and was popular with local teenagers. My sister who was older than me took me in there one day when I was about 7 or 8, and my mother was not best pleased as she believed it to be frequented by undesirables (teenage lads!). There was also the White Cockade restaurant
Moving on we come to a building put up in the 1960s. This housed two large shops, a Pricerite supermarket, and a Mc Ilroys department store. Located here was the next bus stop after the station. It was known as Trinity Church as it was opposite this building. The shelter can just be seen behind 71 below.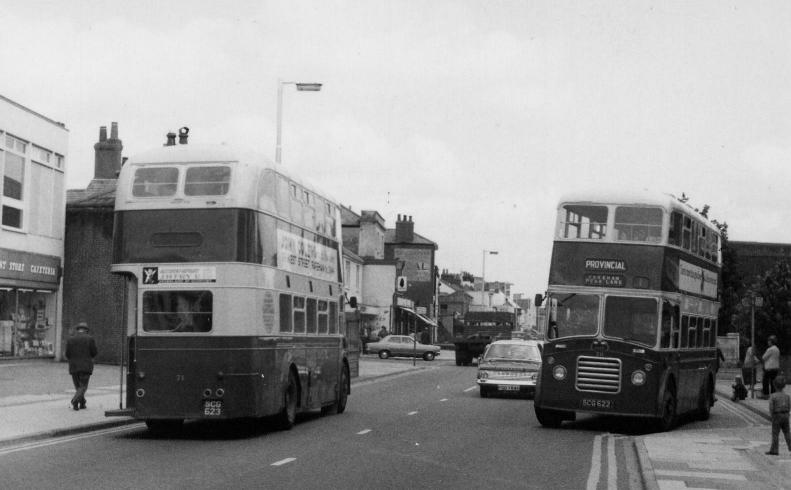 The last two new double deckers delivered to GFOC 70/71 (SCG 622/623) pass each other outside Mc Ilroy's at the location described above. They were Guy Arabs IVs with Reading H30/26 R bodies. Photo: Fred York
---
Just past this point is Trinity Street, which was used by routes 17 and 18. My mother used to regularly visit the Barbara Willis wool shop near the junction, I remember this as being very old fashioned inside. It can be seen in the photo below, attracting a lot of attention !! Next to this was the Royal Oak pub, which has recently been demolished.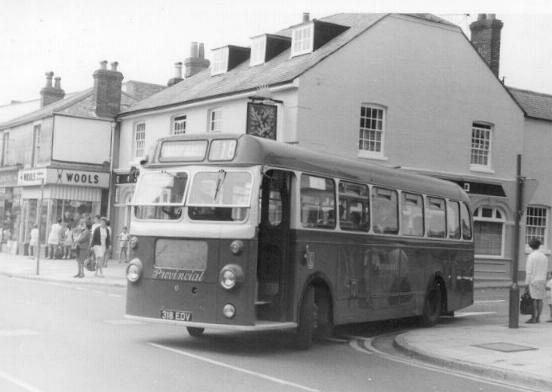 Bristol SUL4A 6 (318 EDV) emerges from Trinity Street on route 18. Photo: Fred York
---
Between Trinity Street and Osborne Road was, amongst others, the Southern Gas Showroom, Cripps the fishmongers the Connaught Drill Hall (TA Centre) and Wain's greengrocers (this was also run under the name of Quartons earlier/later?) On the corner of Osborne Road was the large Techno Trade shop which sold a wide range electrical accessories. All these shops can be seen in the photo below.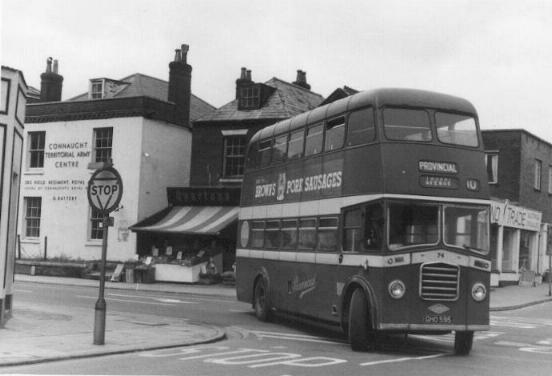 Guy-Deutz 74 (GHO 595) is seen here turning into Kings Road (opposite Osborne Road). Photo: Fred York
---
Past Osborne Road, my memory is less good but I remember Tom Parkers Dairy shop which often had baby chicks in the window, presumably to advertise their eggs, and Smith And Vospers bakers shop. Next to this was the White Horse pub and then the new Post Office, which replaced the older one a few doors further down in the 1960s.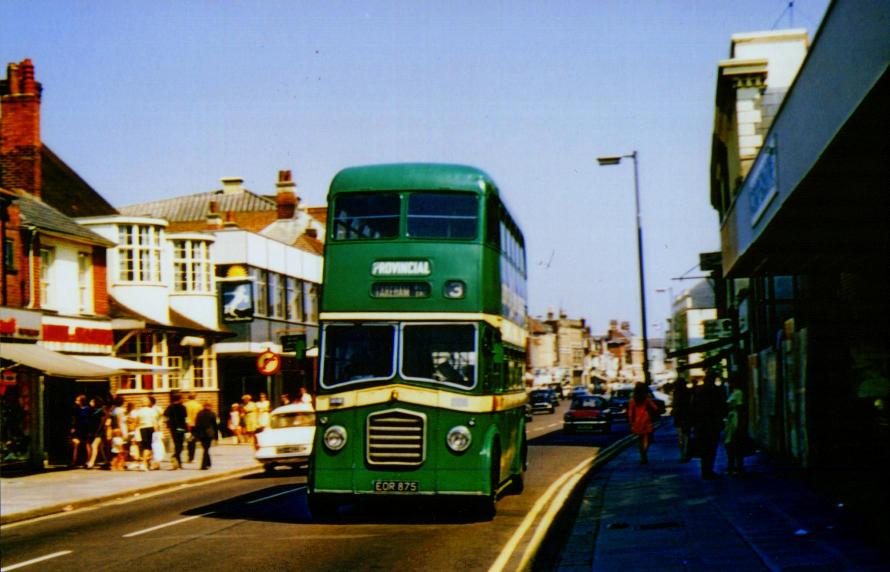 In this shot, Guy Arab 17 (EOR 875) on route 3 to West End passes Smith & Vospers, The White Horse and the new Post Office on its right. This was taken in August 1970, so is just outside the time period of this article. Photo: JJ Bowden
---
We are now approaching the centre of town. Past the Post Offices (old and new) is Ronald Wilson the Jeweler and Bartlett's the newsagent. We then pass the Embassy cinema where I spent some happy hours, and come to Tesco's home and wear shop. This sold clothes and household items whilst another Tesco's further down West Street sold just groceries. If I remember correctly, this shop started life as Victor Value, one of the early supermarkets. I think it was also a Green Shield Stamp gift redemption shop, before metamorphosising into Argos. Running up the side of this shop was Westbury Road which I used to use on my way to Harrison Road School from 1964 to 1966. On the other side of this thoroughfare is the Singer sewing machine shop, and then we come to Savoy Buildings. This was next to where the old Savoy Cinema was, and contained, amongst others, Dewhurst the butcher and Woolworth's. The Woolworth's later became WH Smith when the old Savoy Cinema was demolished to make way for a new Woolworth's building (which is still in use today). Next to Woolworth's was Maynard's sweet shop, this was very small and narrow inside. The next bus stop along this side of West Street was sited in various locations in this vicinity, I remember it being outside Woolworth's opposite the bus station.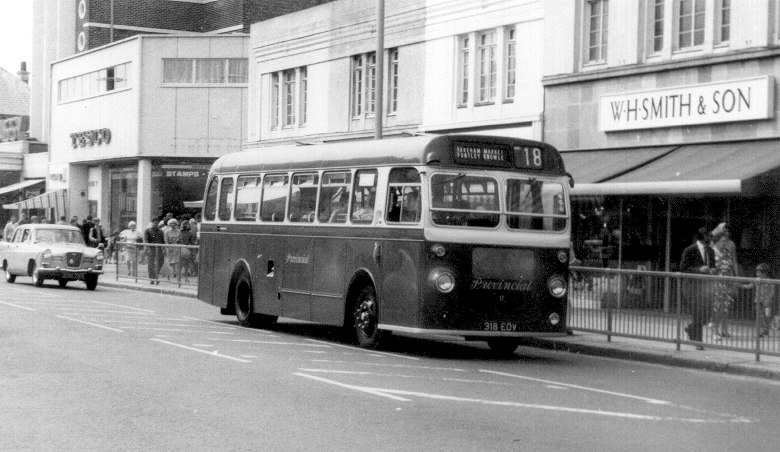 No 6 (318 EDV) again, seen here outside Savoy Buildings, with the Embassy cinema, Tesco's Home and Wear and WH Smith in the background. There was a bus stop located where No6 is passing.
---
Where the Fareham Shopping Centre, which opened in 1975, now stands were a number of old shops, and a pathway off to the left which led to the Flying Angel buildings. These were a collection of grim old white painted utility buildings, used for the County Library, a community hall and the School Dentist, I spent many unhappy hours here!
Also along this part of West Street was a Halfords, Home and Colonial store, Palmer and Harvey's tobacconists, Boots the chemists, International Stores (which later became Macfisheries), Batemans the opticians, Greens the bakers, F Meyers greengrocers, Joyce florists, and Weston Hart. This latter shop sold record players, televisions etc and also records. It had those booths for listening to records before purchase which were popular in the sixties.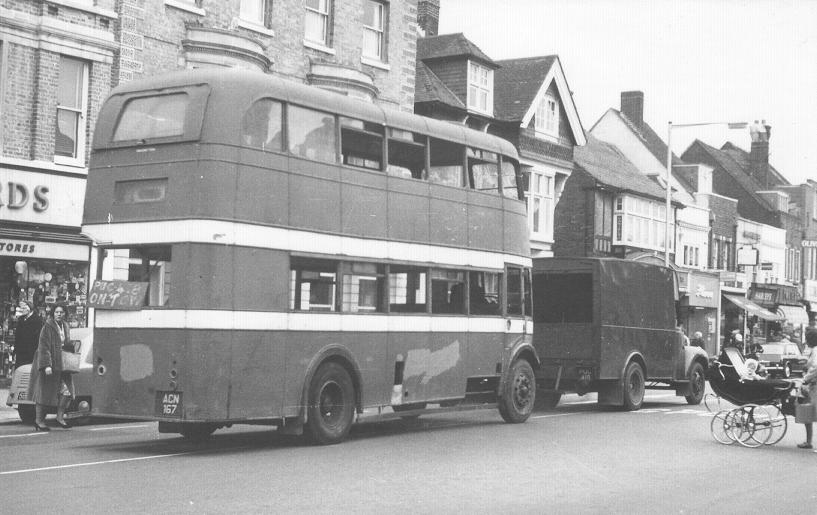 The part of West Street described above is visible in this photo. AEC Regent16 (ACN 167) is on its way to the scrap yard and is seen here passing Halfords. Photo: RF Mack
---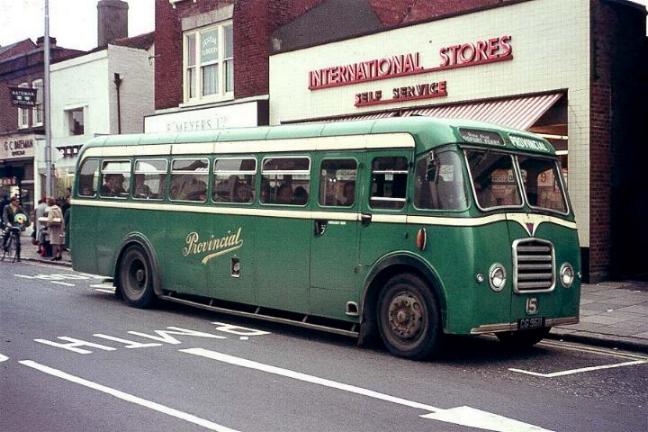 There was a bus stop outside International Stores which was also the starting point for route 18 to Knowle Hospital. There was often a AEC Regal stopped here. In this case it is No26 CG 9611 on Route 15. Photo: Cliff Essex
---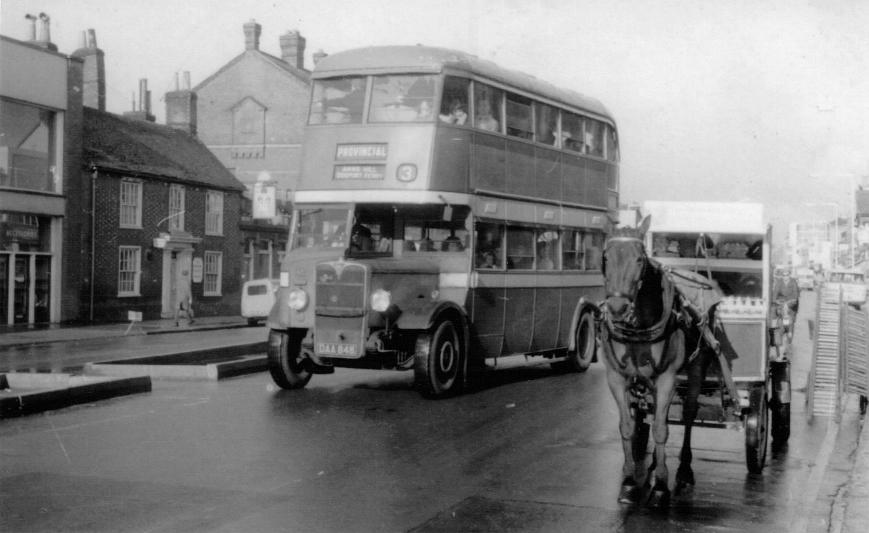 This photo is looking in the other direction from the previous shot, taken outside International Stores. The Crown pub and Hinxman's garage can be seen in front of AEC Regent 42 (DAA 848). The milk float probably belongs to Tom Parker Dairies, I remember these being used to deliver milk to my house around this time, April 1964. Photo: Fred York
---
Today this part of West Street is pedestrianised, in the 1950s/1960s the centre of the road was used as a car park with room for one car width to park diagonally.
Opposite the Quay Street junction on the other side of the road, where buses to Gosport turned right, there was Piles the bakers, and Church Path heading north next to it. My mother used to call this "Piles Alley" which sounded particularly painful ! Further down the street was two shops I was particularly interested in. The first was Vimpany's which sold wool and more importantly Matchbox Toys, and was where I bought most of mine. What is particularly memorable was that in the window they had a row of all the 1-75 series then available, thus allowing you to see at a glance when any new ones appeared. There were two mens outfitters along here, Silvers and Sylvesters. Near the end of West Street was Sidney Keast's shop which also sold toys (Dinky, Corgi and Spot on), they also sold prams and baby related items, as well as a large selection of fireworks around November 5th. I remember them also having an old nickelodeon with the metal disks with holes in, which you could make work by inserting an old penny.
After crossing over High Street and Union Street you reached the Corner House Bakery, run by Soothill's. This is still in operation today and is just as popular. We always used to buy our bread and cakes from here. Opposite this was Righton and Bennet's garage, we now return back up the other side of West Street.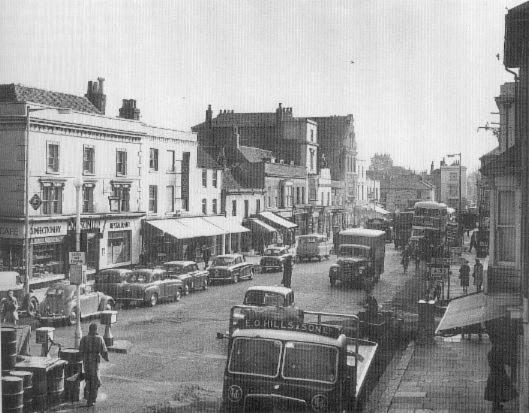 A photo of West Street looking east from just before the Quay Street Junction. Piles bakery is the first building on the left, further down are Vimpany's and Keast's as mentioned. The tall white building at the end of the street is Soothill's Corner House Bakery. A Southdown Leyland on route 45/45A can be seen approaching. An AEC Lorry can be seen unloading outside Hill's Greengrocers, I believe the oil drums in the centre of the road are there as part of the work to remove the centre parking spaces, dating this photo to the early to mid sixties. Photo: Portsmouth Evening News
---
Just behind where the Southdown bus is in the above photo, was Stacey's this was a hardware shop, that also sold fireworks. This was later demolished to make way for the building which housed Courts and Mc Ilroys, which still exists. A bus stop was later placed outside these shops. On The corner of Quay Street was Radford's the builders merchants. Crossing over Quay street , which always seemed narrow at this point when you were on the top deck of a bus, we come to another shop we regularly used. Frank Bussey's the butchers. I used to find this shop strange a child as there was a cubicle in the corner where a lady sat and dealt with he money which was passed to her by the butcher. Next was Hinxman's garage which sold Austin and Wolsley cars. My sister used to work here in the office, and I later bought a number of cars from here, after it became Wadham Stringer (another bus connection!). Along this part of the street was also the Crown public house which always smelled of discenfectant as you passed, and EO Hills the greengrocer, which was formerly Hayward's.
Further up was Hawkins which was a sweet shop, and later became Lewis's. We then come to the terminus bus stop for Provincial route 17 the Wynton Way outside the National Provincial Bank, how appropriate! This stop was officially known as Fareham Market. The buses used on this route always seemed to be the newest and immaculately turned out. It is believed that this was because it ran past Orme Whites house.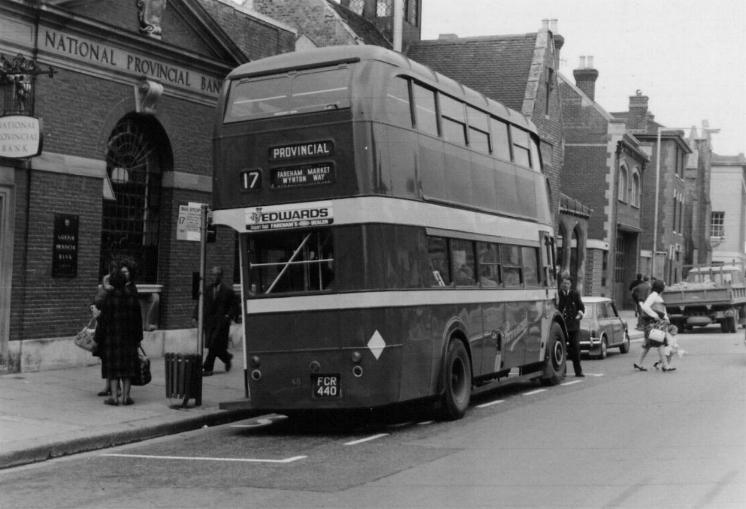 Seen here at the Fareham Market terminus of Route 17 is a shiny ex Southampton Guy Arab 48 (FCR 440). Note the white diamond still being used at this time, and the absence of the traditional garter with the fleet number on the lower panel. The old Fire station can be seen next to the lorry. Photo: Bob Gray
---
Behind the No. 48 above is the Melgrade. This was an arcade of small shops including Norman's barber shop, Dunstall's florists, and the Forester's Hall. We then come to the old Fire Station, in use until the new one opened by the station. Behind these buildings was Fareham Market place, which was held on a Monday. This was always busy with large numbers of Cattle, sheep pigs and other livestock as well as market stalls.
We then come to Portland Street where buses returning from Gosport emerged into West Street. After crossing over we come to Fareham Bus station. This was home to Hants & Dorset and Southdown services, Provincial never used it, their closest bus stop was just next to it. Passing on from the bus station past the site of a Wesleyan chapel, we pass a row of shops, I think one was E Birks furniture shop, and then to Westbury Manor. This is now Fareham Museum, but was for years the Fareham Urban District (later Borough) Council offices. I remember when I was very young queing up here with my mother in the l950s for our weekly allowance of National Dried Milk in the blue and white tin, also cod liver oil and orange juice, Every child was given these items by the government in these post war austere times. Before we reach Hartlands Road there was the Southern Electricity Board Showrooms next to Westbury Manor.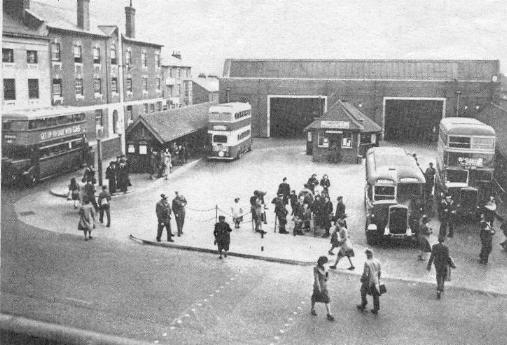 A wartime photo of Fareham Bus Station. A Provincial AEC Regent in wartime livery emerges from Portland Street, whilst a Southdown bus waits at the stand on the left, this was always used by Southdown. Two H & D buses wait on the right. In the 1950's the bus station was enlarged and the building in the centre was removed and the right hand side was demolished along with a large Wesleyan chapel which was next to the bus station. Photo: Portsmouth Evening News
---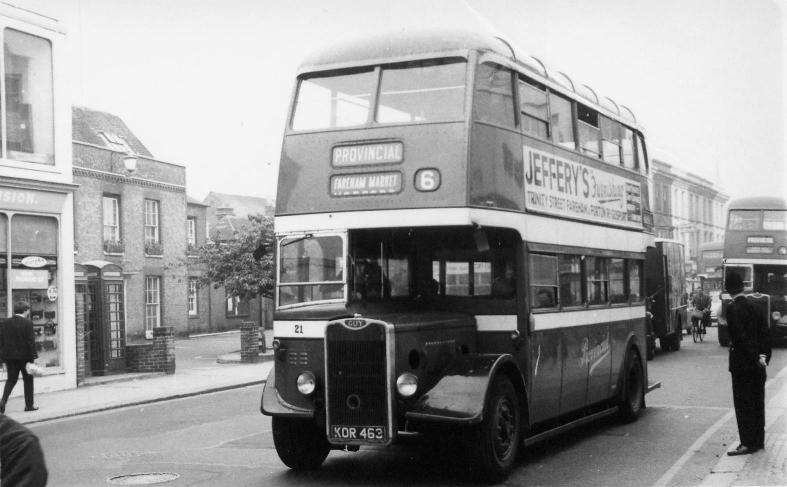 Westbury Manor can be seen behind Guy Arab 21 (KOR 463). Photo: Alan Lambert Collection
---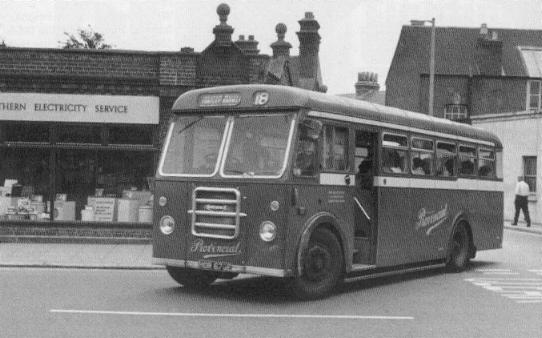 The Southern Electricity Showroom can be seen in the background as Guy/Deutz conversion 8 (HOR 676E) emrges from Hartlands Road on route 18 to Knowle Hospital.
---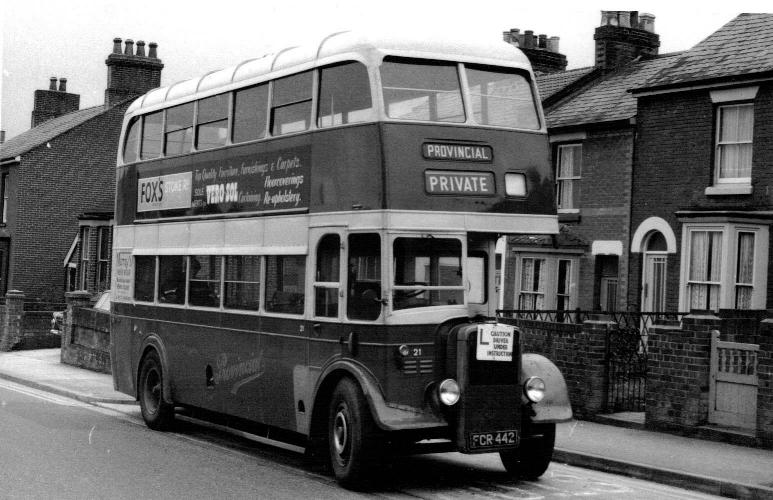 Ex Southampton Guy Arab 21 (formerly 19) is seen here in the new bus lay-by in Hartlands Road, constructed in the late 1960's. It is in the revised livery. Photo: Fred York
---
after we cross Hartlands Road we pass the Evening News office and then the Fareham Carpet Centre, and Murray's Mens Wear Shop. This was immortalised by the staircase panel advert carried by a number of Provincial double deckers. We now pass a number of Cooperative shops, selling home wares. Provincial had a bus stop outside these shops until it was moved to a new lay-by in Hartlands Road. This was when buses started using Hartland's Road rather than Portland Street when arriving from Gosport. On the corner of Kings Road was a shoe repair shop, which I think was called Spencer and Penn, but I am not sure. We then cross Kings Road and pass another Cooperative shop, selling groceries before reaching Trinity Church. It was along here that Fareham's first Chinese Restaurant, Tsung Sing, opened in the 1960s. Next to Trinity church was the Wimpy Bar which was Fareham's first hamburger outlet. I remember calling there for some particularly nice soft ice cream, which they served through a counter in the front window. A greengrocer, Gorringes, was also present in this parade of shops.The Provincial bus stop known as Trinity Church was sited outside the Wimpy Bar. From here onwards the shops were (and still are) set back from the road. They were a collection of smaller businesses, some I remember were Bathbrite builders, a fishing tackle shop and Beaumont's outfitters, where my mother bought a lot of my school clothes. The reason for this was because they accepted Provident cheques. As times were hard, this was a way of paying for things so much a week (an early form of credit).
After crossing Crescent Road we come to another place of bus interest, the Glider Coaches Garage. In the 1960s as we did not have a car, we went on many coach trips with this company, of which I have many happy memories. This was one of Basil Williams companies, and the HQ was at Bishop's Waltham. The livery was brown and cream and the fleet consisted mainly of Bedfords, and I particularly remember a Bedford VAL on which I travelled on to London Zoo and the Cheddar Caves on a school trip. I also remember a Bedford SB with Duple Britannia body which was known as "Ron's Motor". There also a Harrington dorsal finned coach, but I am not sure what chassis this was on. If anyone has any photos or further information on Glider I would like to hear from you. Outside this garage were a number of boards advertising their tours, destination I remember are London Zoo, Cheddar Caves, Bristol Zoo. This garage later became an Exhaust Centre. Next to the Glider Garage was a small sweet shop, Leonard Dommet's photography shop, and then a shop of great interest to me, Bunce's model shop. This was where I bought all my Triang model railway, Scalextric and Minic Motorways equipment. They also did repairs and sold Triang Spot On models which were not easy to get hold of at the time.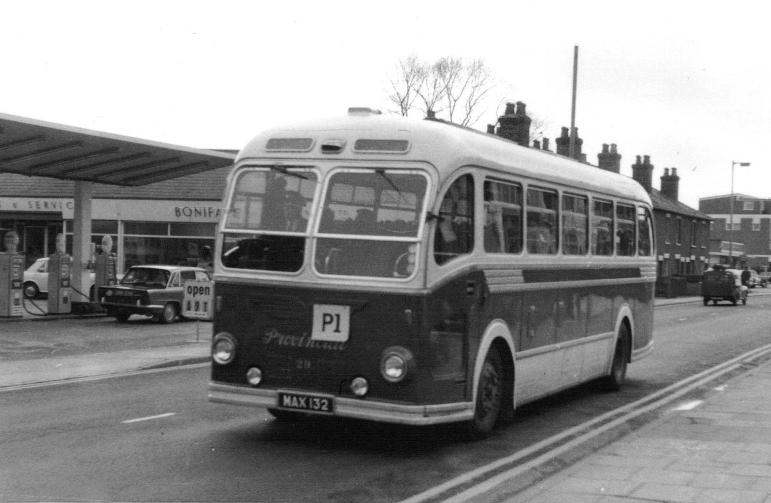 With Boniface and Cousins garage in the background, ex Red & White Bristol LS6G (MAX 132) on a Foster Wheeler Fawley Contract. The modern building which replaced the Maytree Cafe can be seen on the right. Photo: Fred York
---
We then come to Boniface and Cousins garage, which like Hinxmans was another BMC car vendor, it also had a Shell petrol forecourt. Our journey is nearly over, as we come to Maytree Road, which before the current shops and offices, was the site of the Maytree cafe. This was demolished in the 1960s, and was a favorite hang out for Teddy Boys and bikers, I remember my mother warning my sister about this place !
As we reach the West End Hotel, we are now back to Fareham Station and our journey ends. I hope you have enjoyed this ramble through the Fareham of the 1950's/1960's and that it bring back memories to those who were there and provides some interest to those who were not. If you can add anything and provide some corrections to my ramblings please get in touch, as the memory fades after 40 years !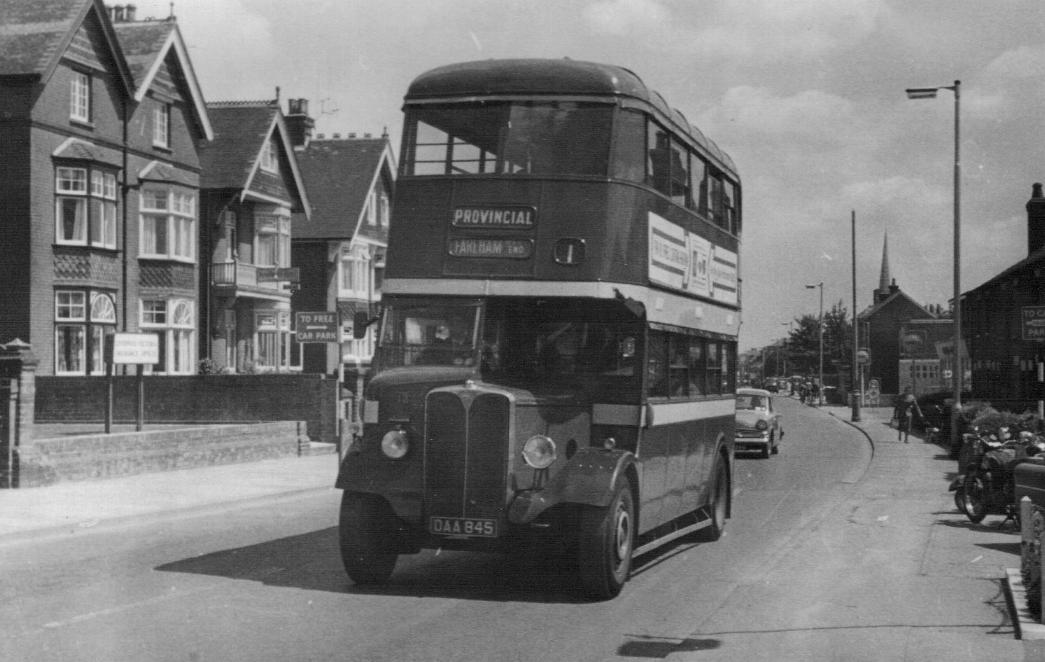 A classic view of West Street Fareham taken from close to the end of our Journey. Boniface and Cousins garage can be seen in the background, also Trinity Church spire, which has since been removed. AEC Regent 43 (DAA 845) approaches Fareham Station on route 1. Photo: Fred York
---
Fareham Photo Album
Below are some more photographs showing West Street scenes :-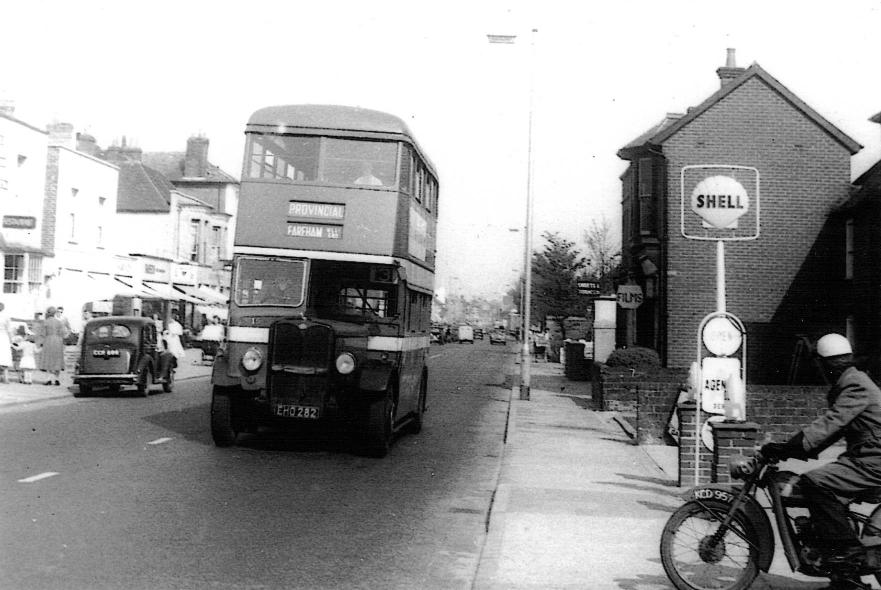 AEC Regent 15 (EHO 282) is approaching the entrance to Boniface & Cousins garage, where a motorcyclist is waiting to emerge. Just to the right of the Shell sign is where Bunce's model shop was. Behind this can be seen Leonard Dommet's photographic shop, and Hanson's Fish and Chip shop. There was also a sweet shop /tobacconists on the corner of Avenue Road. Just before the sweet shop can be seen the entrance to the Glider Coaches garage. Photo: Stephen Didymus Collection
---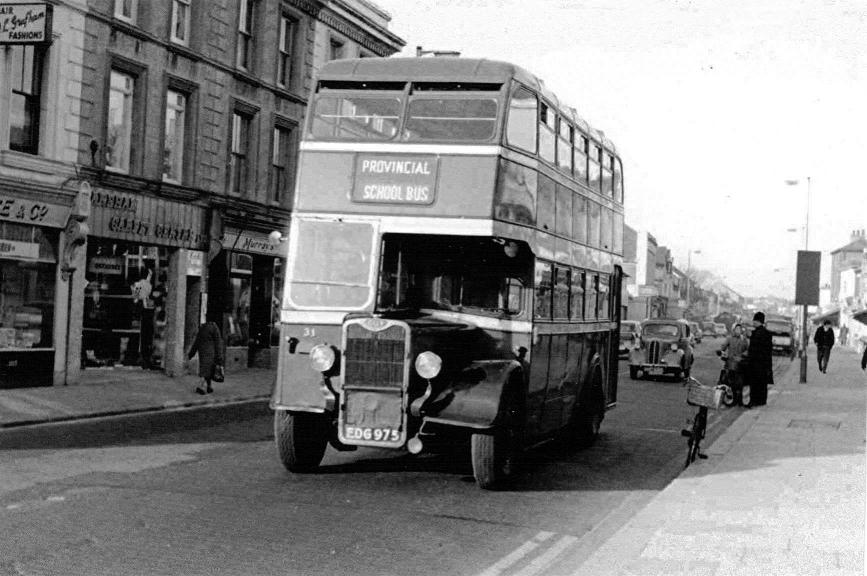 Ex Red & White Guy Arab 31 (EDG 975) is approaching Hartlands Road on the right. The Fareham Carpet Centre and Murray's men's wear shop, can also be seen on the right. Photo: Stephen Didymus Collection
---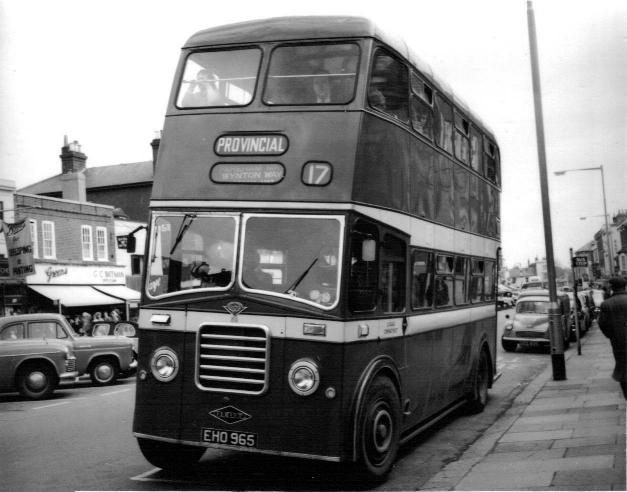 Waiting at the terminus of Route 17, is Guy/Deutz 59 (EHO 965), the first such conversion. It is amazing how many buses photographed on this route did not carry adverts. This was probably due to the fact that the buses in the best condition were invariably used on the route, and after re-paint probably went straight onto it. In the background, can be seen the car park in the centre of the road as mentioned in the text, also Boots the chemists, and Green's the bakers. Photo: Roy Marshall
---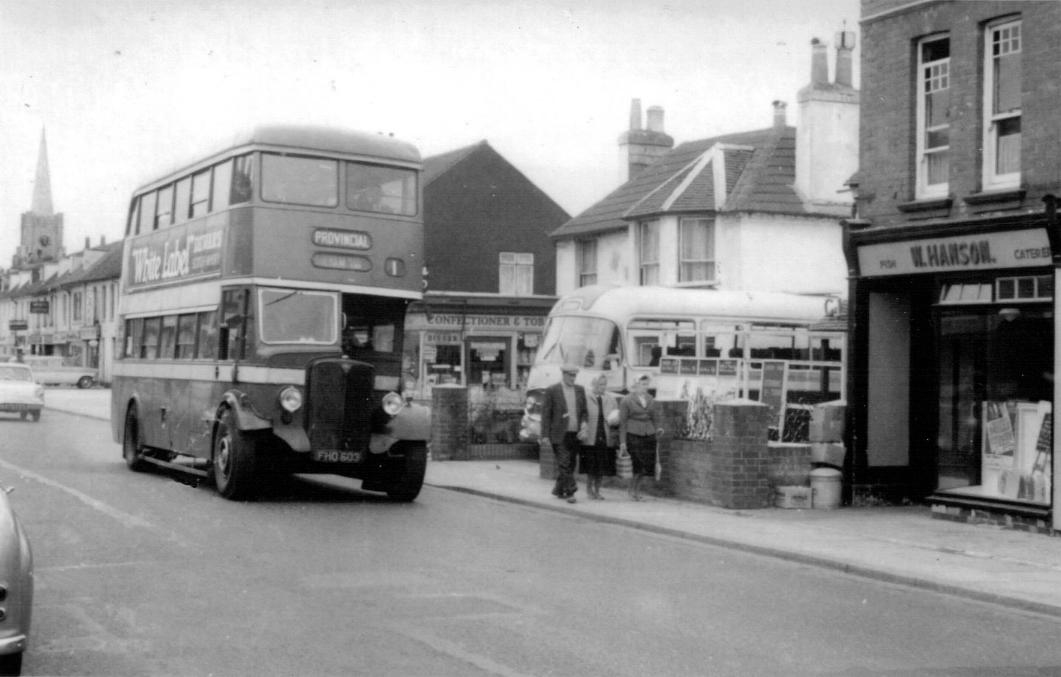 In this photo at the west end of West Street, AEC Regent 11 (FHO 603) is passing the entrance to the Glider coaches garage, and one of their Bedford coaches can be seen parked up.You can also spot the many boards advertising their tours. Hanson's fish and chip shop can be seen in the foreground. Photo: Fred York