55 EHO 228

The first Guy Arab of any description that was purchased new by Provincial was delivered in 1942. This was 55 (EHO 228) an Arab I with the standard (for Provincial) 5LW engine. It was delivered with a Weymann utility body to wartime specification. This body was later rebuilt by Reading in 1955. Withdrawal took place in 1970 and it was then sold to the Maypine Trolleybus Company in November of that year. It still survives today and is now owned by First.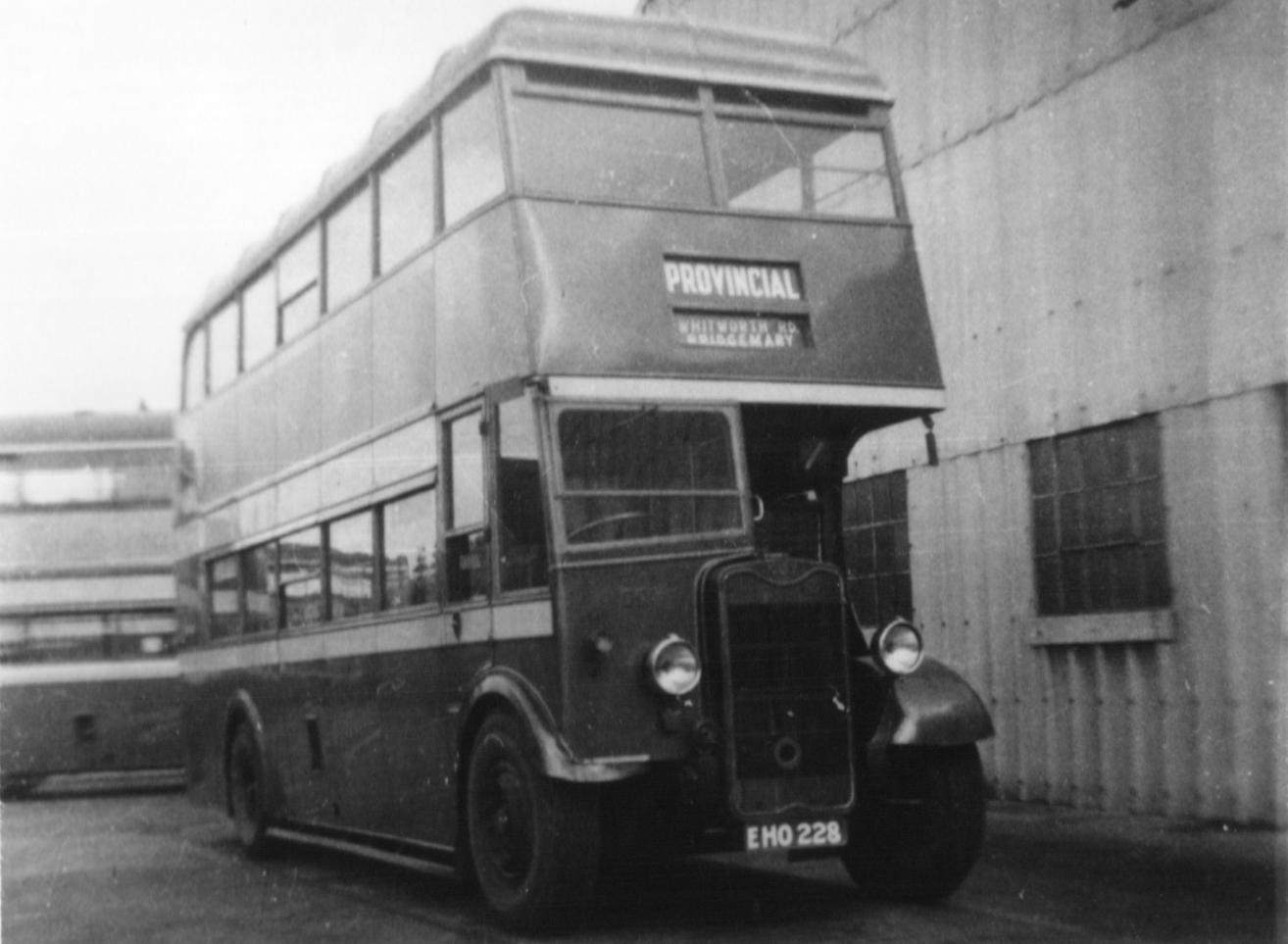 No 55 seen at Hoeford with its original utility body. Photo: Alan Lambert
---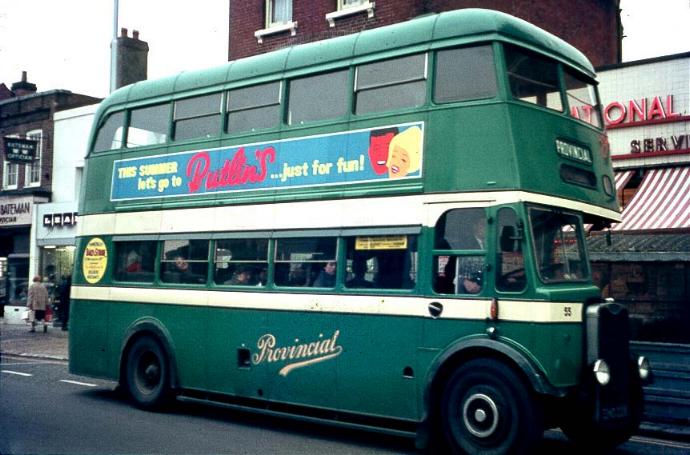 55 (EHO 228) seen here with its 1955 Reading body in Fareham. Photo: Cliff Essex
---
56-58 EHO 868-870
The next delivery of Arabs took place in 1943, when No's 56-58 were delivered. These were Arab II's with 5LW engines and Park Royal utility bodywork. They were painted grey on delivery, and had wooden slatted seats. The body of 56 was rebuilt to P030/26R in 1958. In 1953, 57 received a new Reading C030/24RD body, but it never operated as an open-topped vehicle. It was to a more luxury specification than the standard Reading bodies at the time and was called a "Coach-Bus". This was in an attempt to attract private hire work. The doors were removed in 1963. A Deutz F6L514 six-cylinder air-cooled engine was fitted to the chassis of 58 in 1962, it was fitted with a new Reading H30/26R body and was also renumbered 75. 57 was transferred to Provincial Traction Company legal ownership in 1947.
Withdrawals took place as follows :-
56 In 1969 - It was sold to Fort Wallington car breakers in April 1969.
57 In 1970 - It is now looked after by the Provincial Society.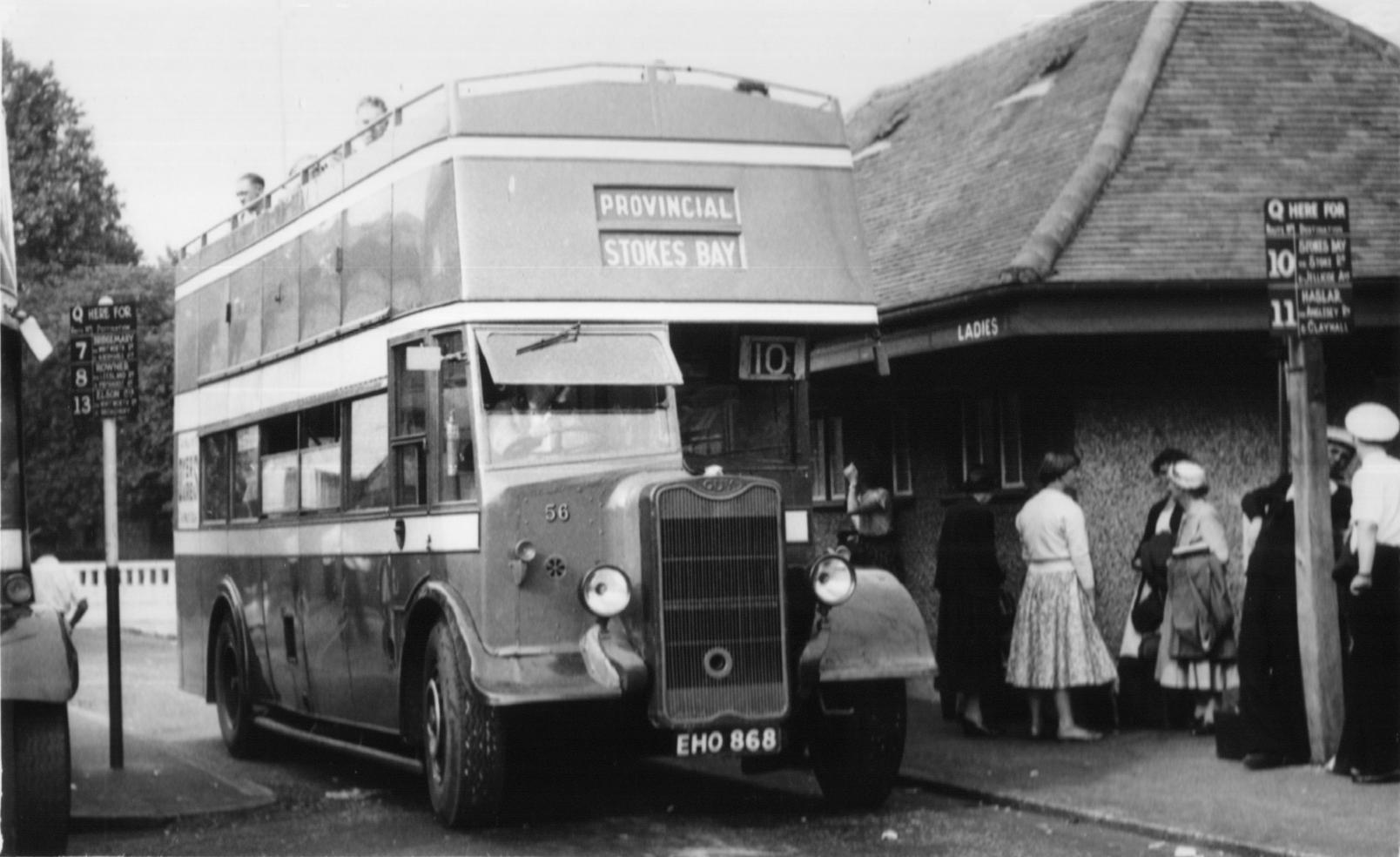 56 (EHO 868) in open top form at Gosport Ferry. Photo: Roy Marshall
---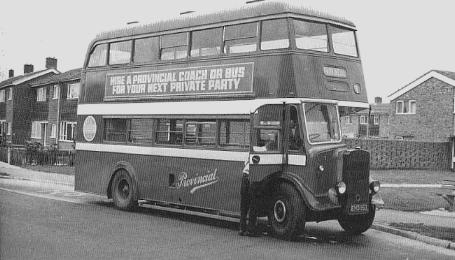 57 (EHO 869) at Fareham (West End) Terminus. This was about 100 yards from where I lived at the time. Photo: Mike Fenton
---
57 (EHO 869) seen at Gosport Ferry. This rear view shows the alteration made after removal of the platform doors.
---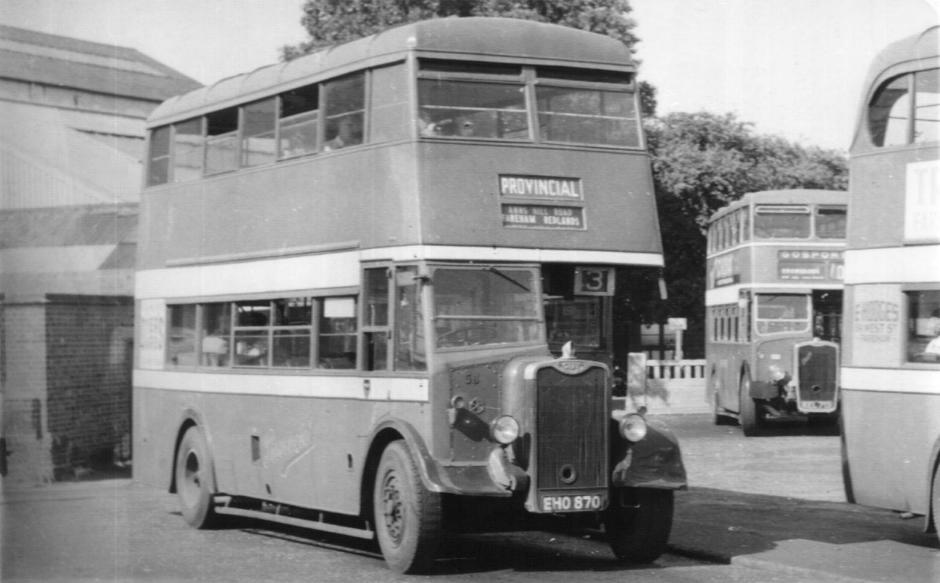 58 (EHO 870) with its Park Royal utility body in company with a KEL *** registered Hants & Dorset Bristol K and an unidentified Provincial vehicle. Photo: Alan Lambert
---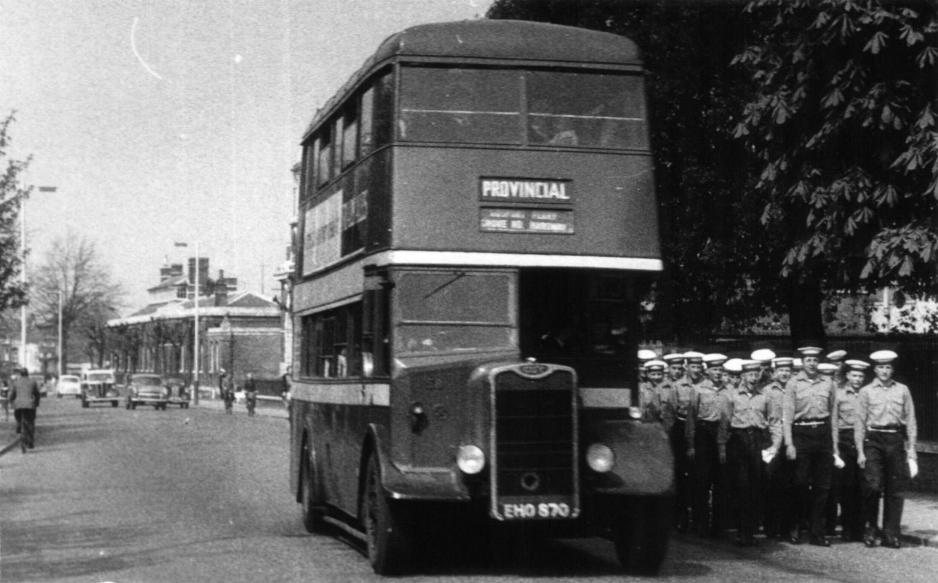 An interesting shot of 58 again. The location is outside HMS St Vincent, Gosport. The young recruits are on their way to Clarence Yard where the ships boats were moored. They would either row or sail the cutters up towards the reserve fleet.
Photo: F.W. York
---
59-61 EHO 965,967,966
These vehicles were also delivered in 1943. There were also Arab II with 5LW engines.
The body of 60 was rebuilt to P030/26R in 1952. The open-top body on 60 was replaced by a new Reading FH30/24RD body in 1956, This was, in effect, a sister coach bus to 57, the internal finish was very similar. The doors were removed in 1970. In 1958, the chassis of 59 and 61 were fitted with Deutz F6L514 six-cylinder air-cooled engines and new Reading FH30/26R bodies.
Withdrawals took place as follows :-
59-61 - Withdrawn in 1970 and sold to Fort Wallington Car breakers that year.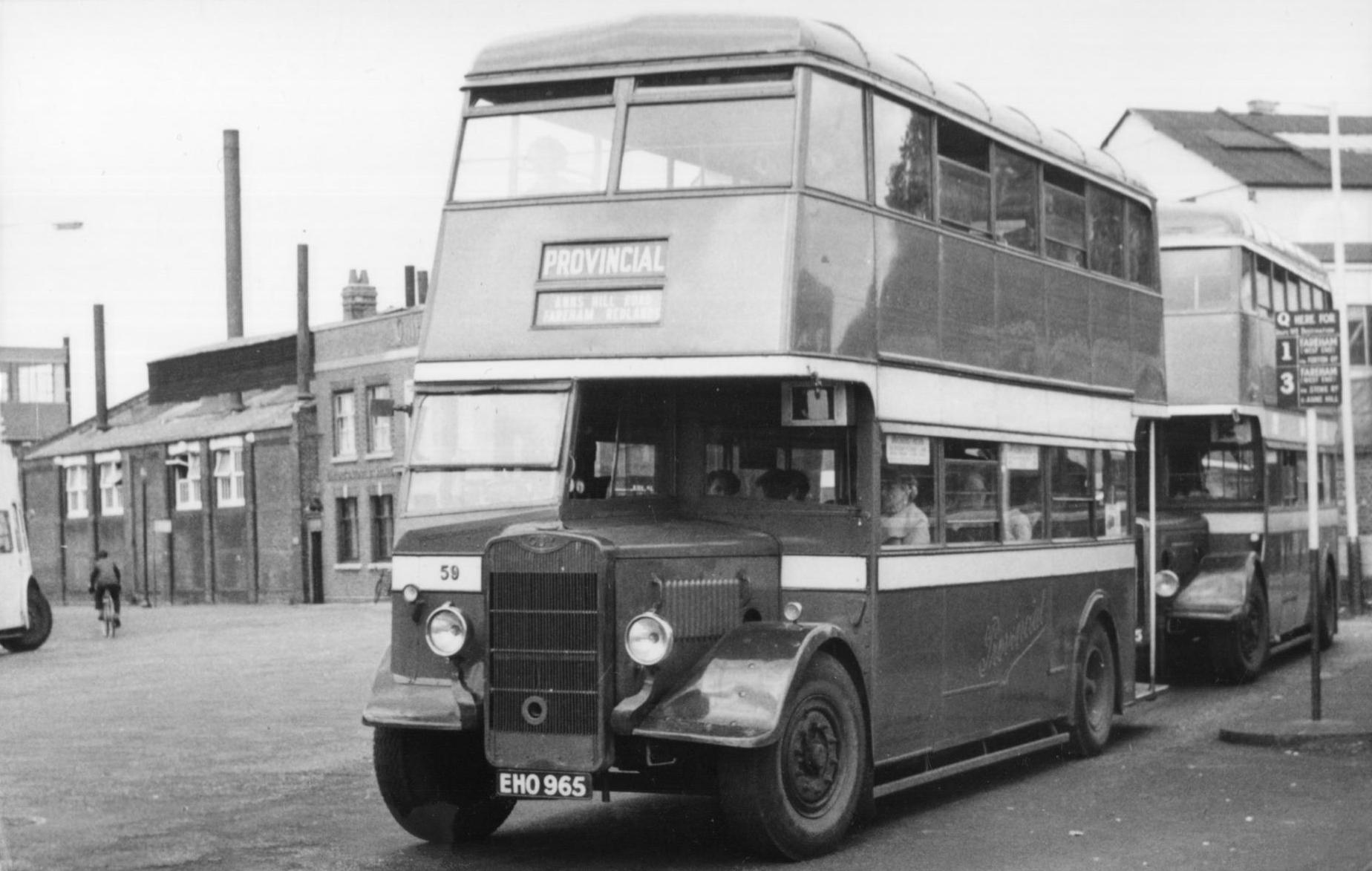 59 (EHO 965) in utility form at Gosport Ferry. Photo: Stephen Didymus Collection
---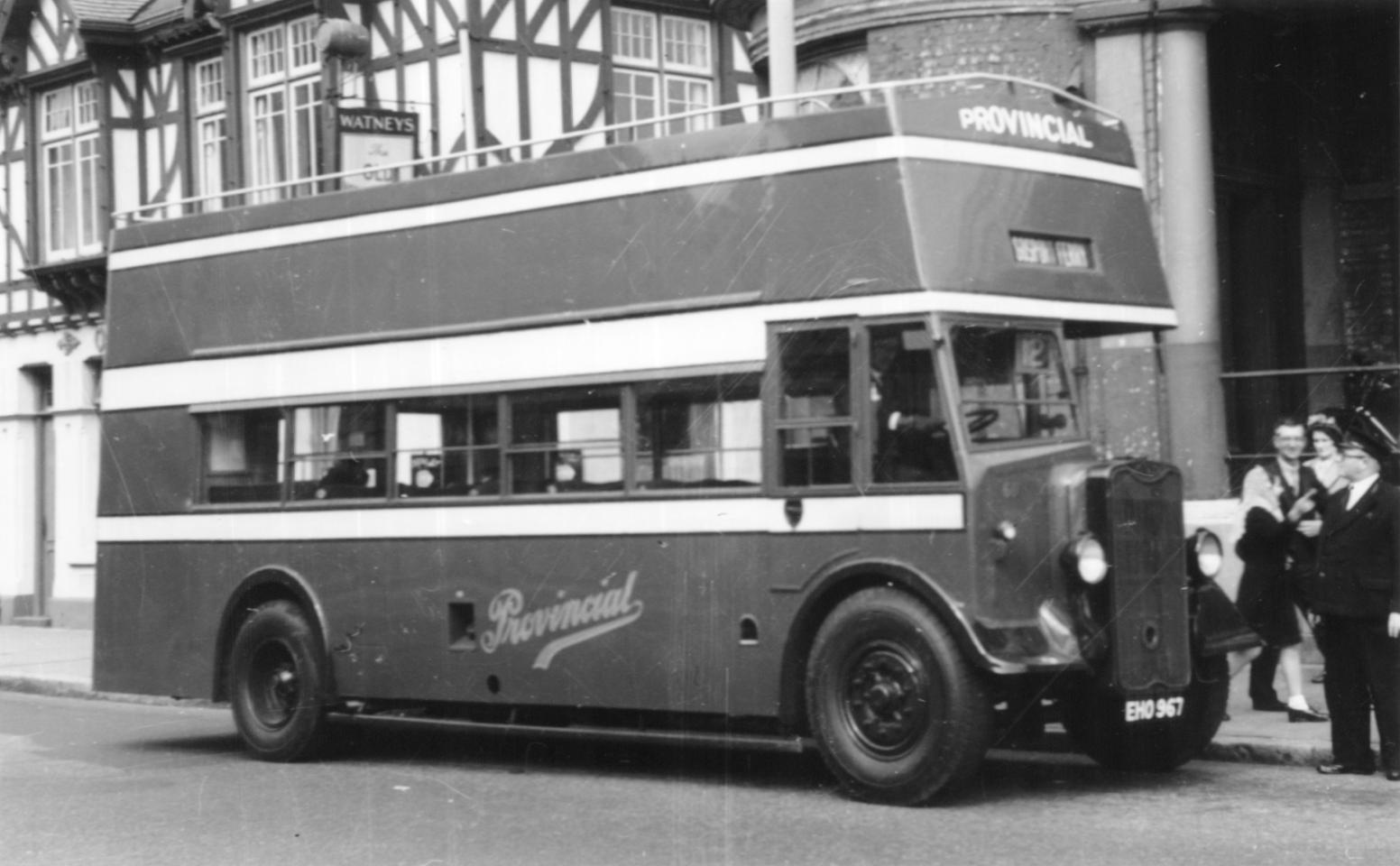 60 (EHO 967) during its career as an open topper (1952-56), seen by the old Northumberland pub and the Market house at the bottom end of Gosport High Street opposite Woolworths. Photo: VC Jones
---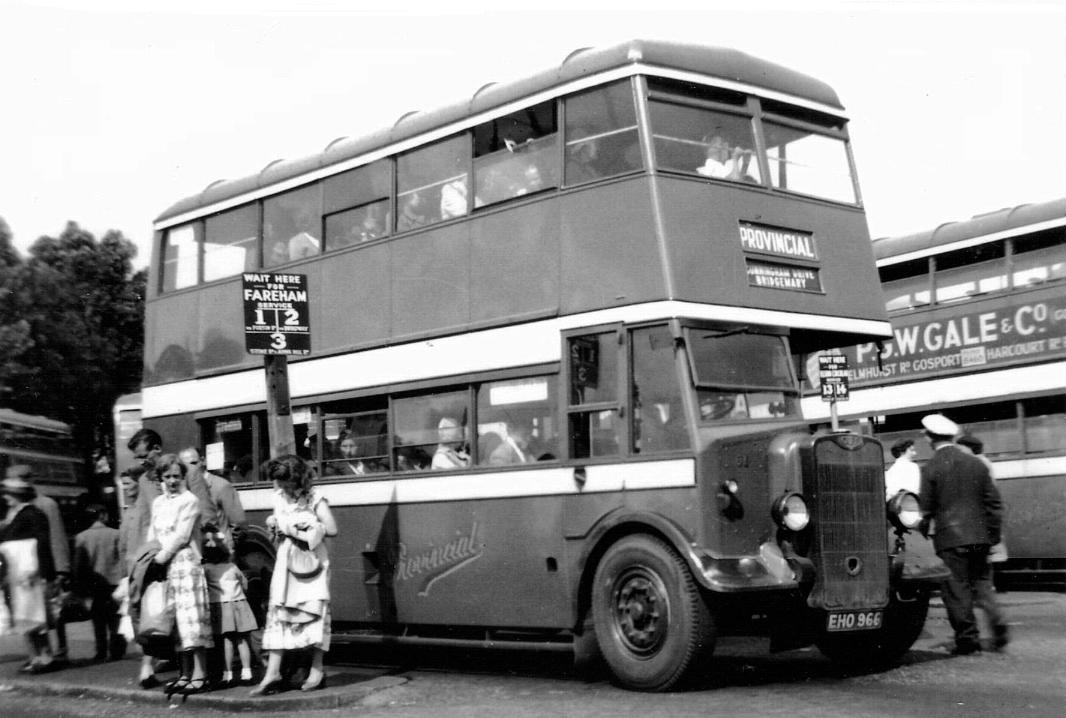 61 (EHO 966) in its utility form at Gosport Ferry. Photo: Martin Brown
---
17-18 EOR 875-876, 31-32 EOR 877-878

The final Arab wartime deliveries were in 1945 when 4 further vehicles arrived. These were again Arab II 5LW. All were delivered in grey livery and with wooden slatted seats. 18 was transferred to Provincial Traction Company legal ownership in 1947. The body of 18 was converted to PO30/26R open top form in 1955. The other three were re-bodied with Reading fully fronted bodies (FH30/26R) in 1958 (17), 1957 (32) and 1961 (31). 31 (EOR 877) was also fitted with a Deutz F6L514 six-cylinder air-cooled engine in 1961 and re-numbered 73. In the 1970 partial re-numbering of the fleet 17 and 32 became 28 and 27 respectively.

Withdrawals took place as follows :-

17 - 1971 - Now preserved

18 - 1969 - Now scrapped

31 - 1971 - Now scrapped

32 - 1971 - Now scrapped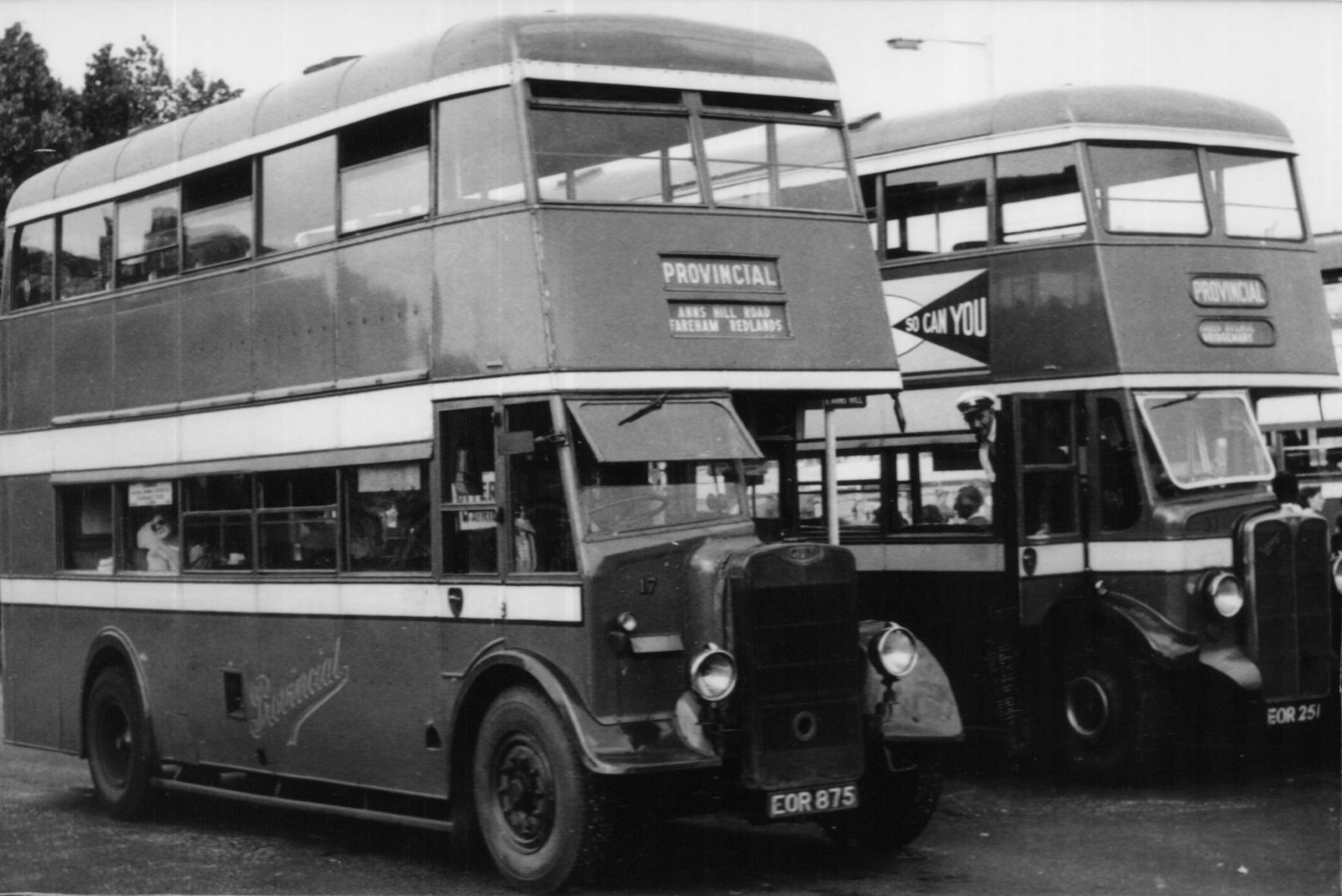 The original 17 (EOR 875) resting at Gosport Ferry. Photo: Surfleet
---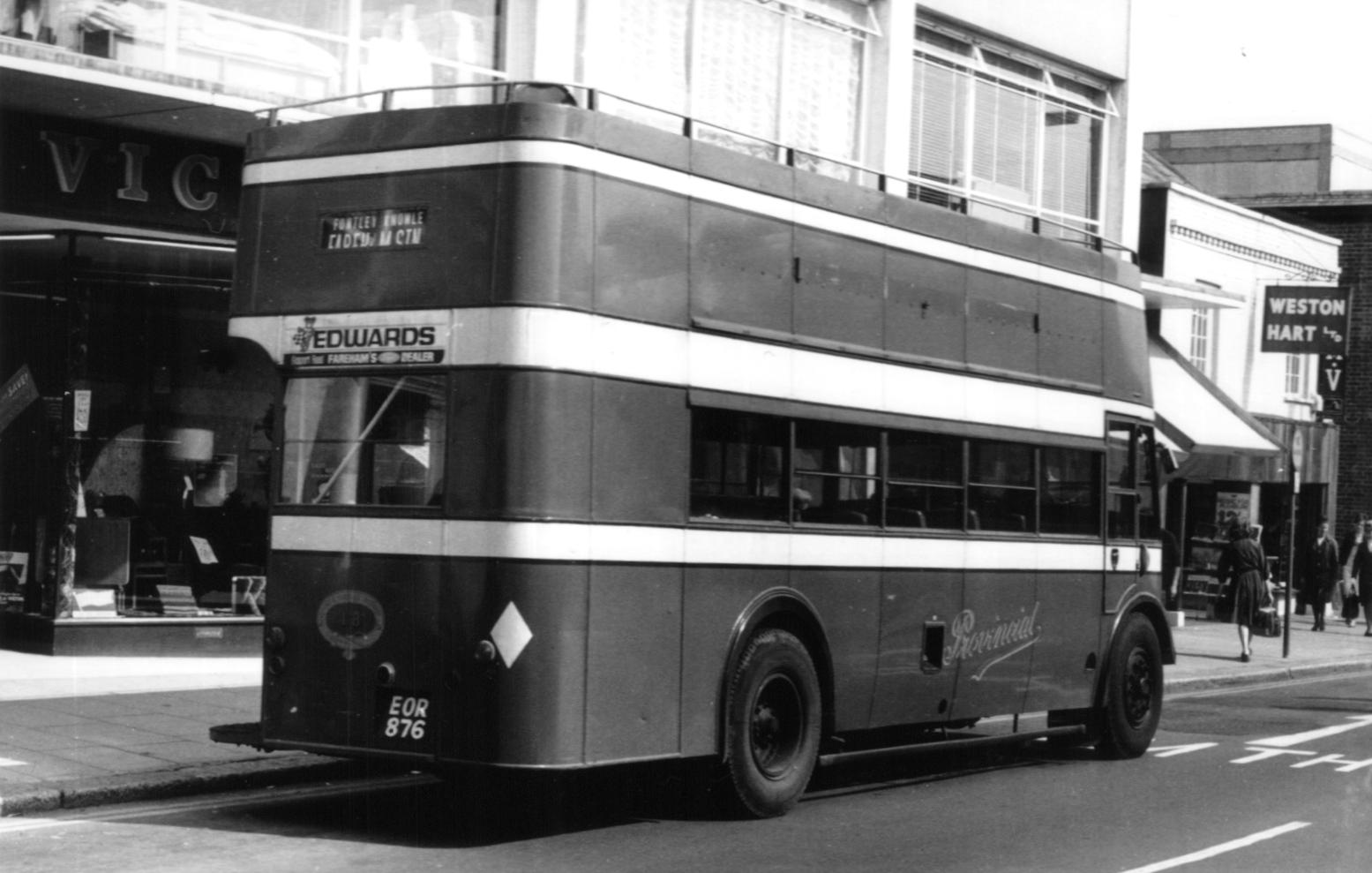 A rear view of 18 (EOR 876) in open top form in West Street Fareham. Photo: AB Cross
---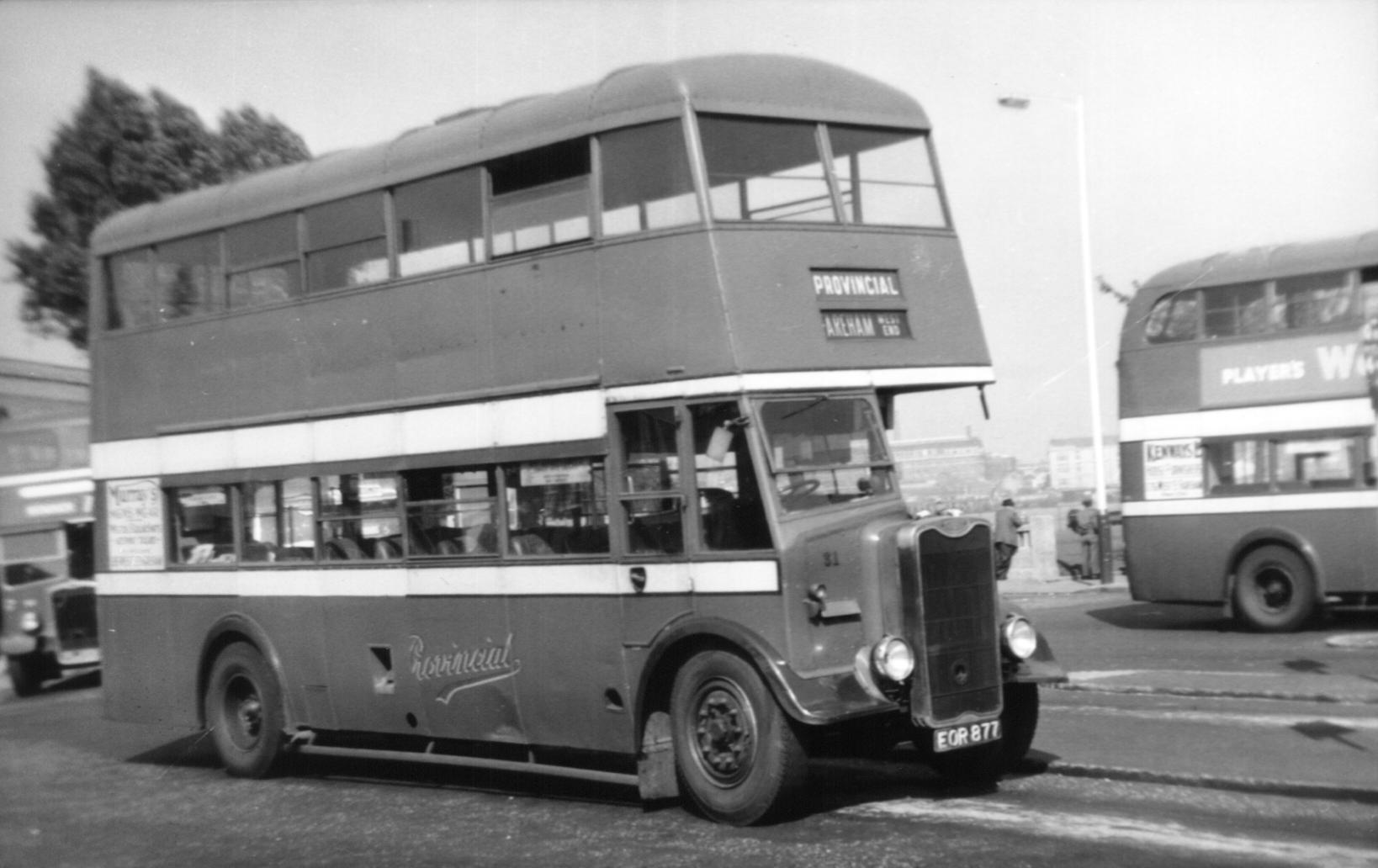 31 (EOR 877) at Gosport Ferry somewhat worse for wear, note the offside panel repair around the fuel filler. In the background can be seen a Hants & Dorset Bristol K and a Provincial Park Royal Guy Arab III. Photo: Stephen Didymus Collection
---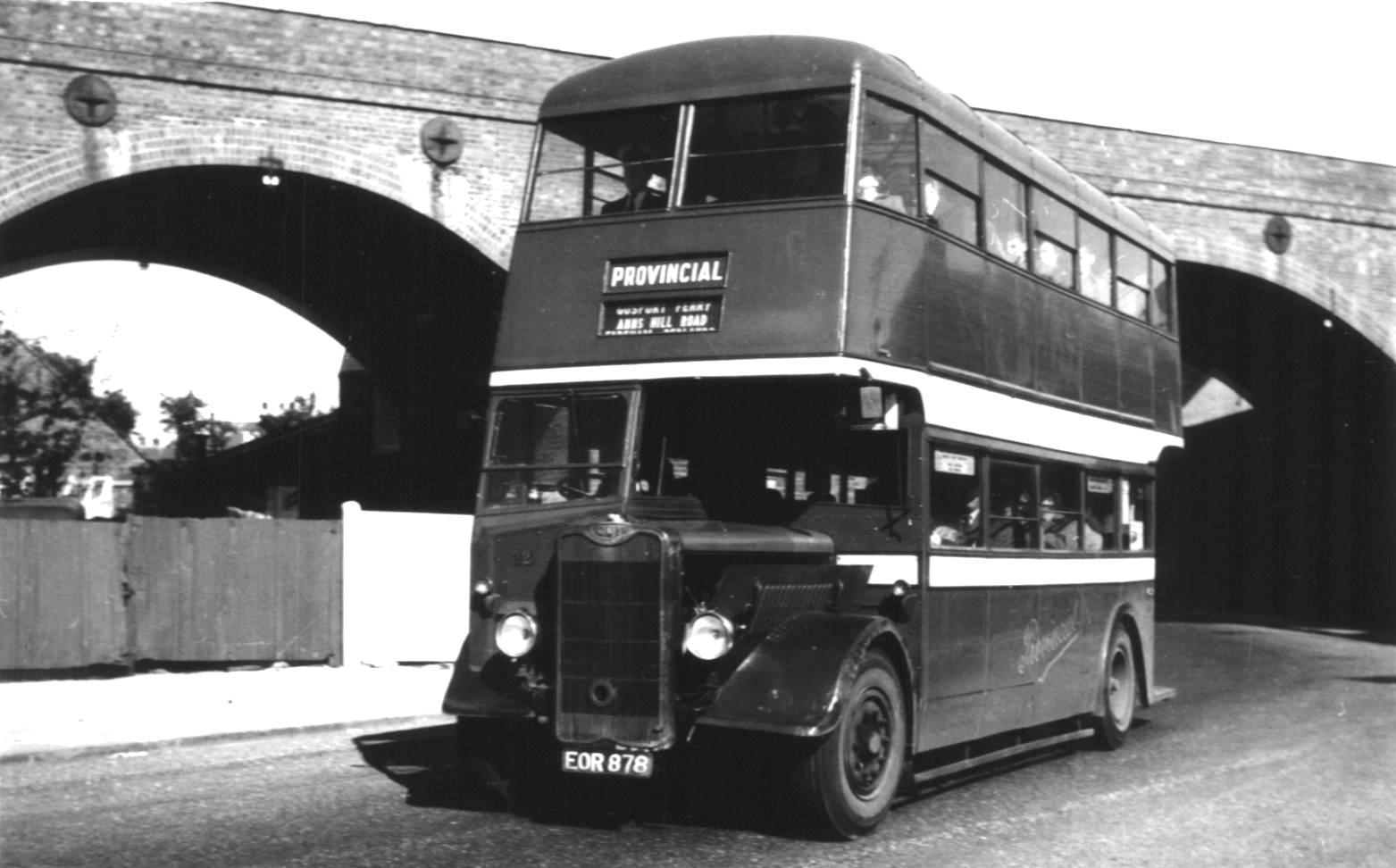 32 (EOR 878) in original utility form, passing through Fareham Viaduct on route 3 to Gosport Ferry via Anns Hill Road. The engine side flap is open, so this was probably taken in the summer time Photo: David J Pennells Collection
---
Wartime Guy Arab Summary
| | | | | |
| --- | --- | --- | --- | --- |
| Fleet No. | Reg number | Originally Bodied by | Entered service | Withdrawn |
| 55 | EHO 228 | Weymann | 1942 | 1970 |
| 56 | EHO 868 | Park Royal | 1943 | 1969 |
| 57 | EHO 869 | Park Royal | 1943 | 1970 |
| 58 | EHO 870 | Park Royal | 1943 | 1972 |
| 59 | EHO 965 | Park Royal | 1943 | 1970 |
| 60 | EHO 967 | Park Royal | 1943 | 1970 |
| 61 | EHO 966 | Park Royal | 1943 | 1970 |
| 17 | EOR 875 | Park Royal | 1945 | 1971 |
| 18 | EOR 876 | Park Royal | 1945 | 1969 |
| 31 | EOR 877 | Park Royal | 1945 | 1971 |
| 32 | EOR 878 | Park Royal | 1945 | 1971 |