Listing of Preserved Provincial Buses

| Registration No | Fleet No | Chassis | Current Owner | Notes |
| --- | --- | --- | --- | --- |
| CG 9607 | 24 | AEC Regal | David Whitaker,Waltham Cross | |
| CD 7405 | 20/2 | Leyland G7 | Sussex Coastline Buses | Preserved in Southdown livery |
| BOR 767 | 35 | AEC Regent | David Whitaker,Waltham Cross | |
| EHO 228 | 55 | Guy Arab I | First Hampshire and Dorset | |
| EHO 869 | 57 | Guy Arab II | Provincial Society | Currently under restoration |
| EOR 875 | 17 | Guy Arab II | Provincial 17 Group | Fully fronted Reading Body |
| HAA 771E | 36(62) | Guy Arab (Deutz conversion) | Mike Blake, California USA | Fully fronted Reading Body |
| HWO 334 | 12 | Guy Arab III | BaMMOT, Wythall | Preserved in Red & White Livery |
| EWO 467 | 77 | Guy Arab I | Doug Allen, Ross-on-Wye | Provincial Livery |
| JO 5403 | 19 | AEC Regent | Taylor,Oxford | Converted to open top by Provincial, preserved in Oxford livery |
| 975 CWL | 66 | AEC Regent V | Wareham, Yarnton | Livery unknown |
| ECG 112K | 12 | Bristol RELL6G | Terry Lawson | |
| HOR 413L | 13 | Leyland National Mk1 | Willis and Smith, Gosport | |
| RUF 37R | 23 | Leyland National | Bob Jackson | To be restored as Southdown 37 |
| XLJ 726K | 79 | Bristol RELL6G | XLJ Group | |
| HOR 416L | 16 | Leyland National | R Waugh, Aberdeen | |
| SBK 740S | 40 | Leyland National | Gordon Mills | Previously No 330 |
| WFX 257S | 76 | Leyland National | | |
| A301 KJT | 1 | Leyland National Mk2 | Darren Marshall & John Sherwin | Previously 401 in the First Fleet |
| H523 CTR | 3 | ACE Cougar | Members of the Provincial Society | Donated to Provincial Society by First H&D. Previously numbered 333, 600 & 800 |
| NLP 389V | 432 | Leyland National Mk2 | Richard Perry, Matthew Saunders and Dave Woods | Donated to Provincial Society by First H&D. Painted in traditional Provincial livery for Provincial 125 celebrations in 2003. |
This is believed to be the last remaining Deutz engined Guy Arab rebuild. It has just changed hands and is now owned by Mike Blake at Atascadero California USA. It has apparently been resting on a farm at Templeton CA for the past 15 years. Mike has converted it into a mobile wine tasting bar. It started life with United Welsh in 1944 with a utility body reistered DWN 378. It was rebuilt by Provincial in 1967 under the auspices of Mr Orme-White and was the last double deck rebuild. After withdrawal in 1971, it was bought for preservation by David Fereday-Glenn but sold to be converted into a caravan in 1975. In 1983 it was spotted with a new owner in Fort Collins Colorado. How did we let this one escape! If anyone has the wherewithal to repatriate this vehicle please do so !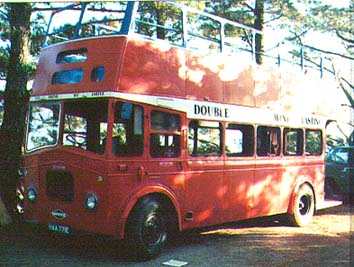 ---
35 was one of the first Provincial buses to be preserved, being bought out of service in 1967. It is always immaculately presented

by its owner David Whitaker.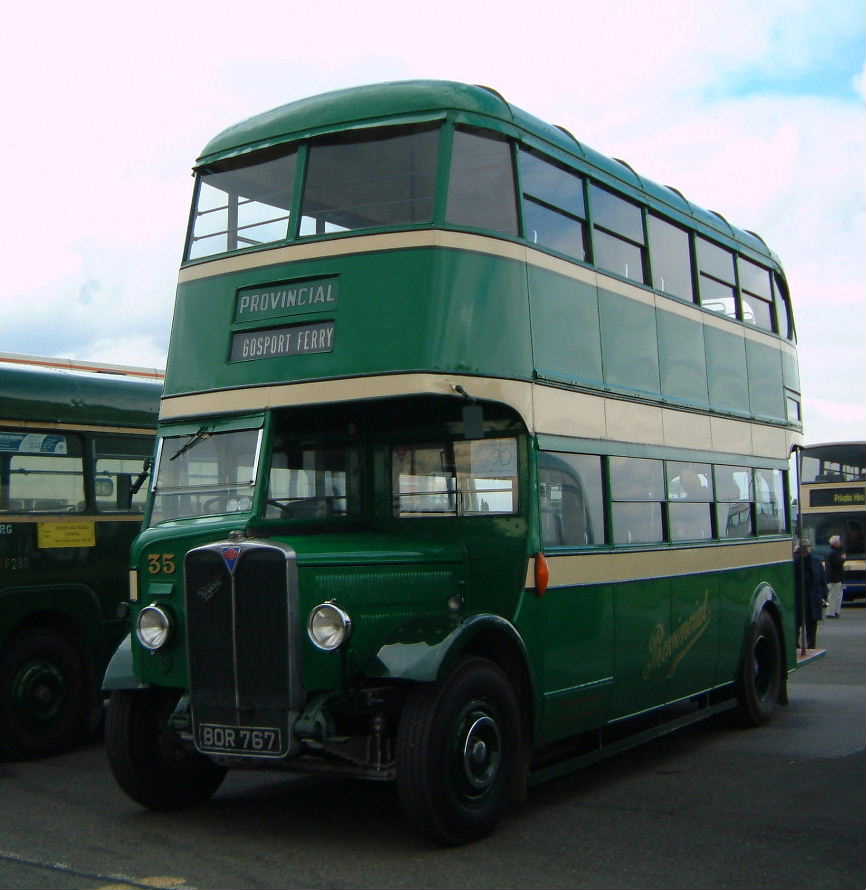 ---
Mark Gentry has kindly supplied me with the photo below. The bus is the Property of First. It

was recently housed at the City of Portsmouth Preserved Transport Dept (CPPTD) Museum at Broad Street, Old Portsmouth until its demise in 2003. Mark informs me it had a repaint in 2000.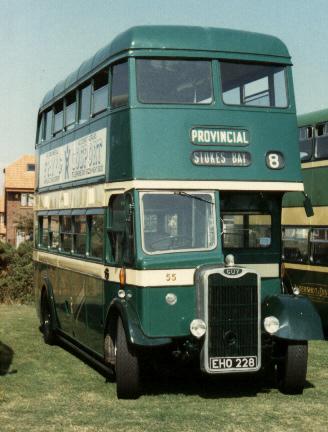 ---
No 17 was originally new in 1945. It had a utility Park Royal body and was delivered in wartime grey with wooden slatted seats. Its body was rebuilt as FH30/26R by Reading in 1958. It also carried fleet number 28 after the renumbering in December 1970. It was withdrawn in 1970

. It was recently seen at the Provincial 125 in August 2003. In 2009 in was sold to a consortium of Provincial Society members.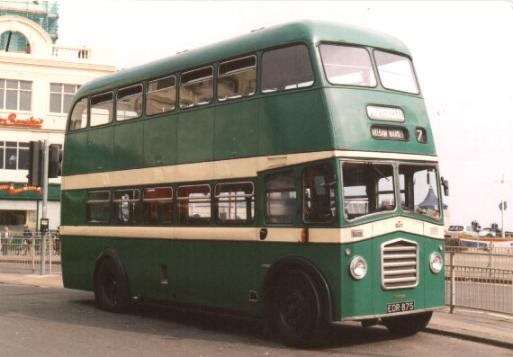 Photo supplied by Mark Gentry
---
No 13 was the first Leyland National delivered to Provincial. I travelled on it on its first day in service, and I have to say I was not that impressed. The main reasons for this were its stark all over green livery and its somewhat spartan interior. Later a white stripe was added to all Nationals and this much improved their appearance. I much preferred the Bristol RE's. However over the years I have come to like the Nationals for they have their own characteristics.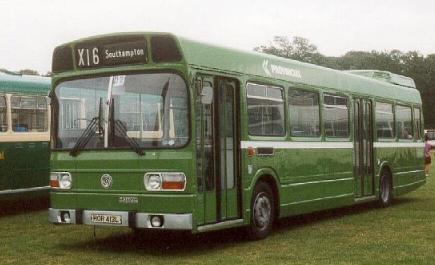 ---
24 CG 9607

David Whitaker the owner of No 24 (and also BOR 767 for the past 31 years)

gives the following details :-

"My mother bought CG 9607 for me in 1985 after I had spent ten years trying to find it and eventually tracked it down near Nottingham. It was in very poor condition- the roof had all but collapsed due to being out in the open for years and it was rather sad mechanically. However, I considered myself very fortunate to have it. I got her on the road in 1995 (to North Weald and Stokes Bay) but soon off the road with mechanical problems. Hope to have her mechanically fit next year".

Afternote :- This vehicle attended the Stokes Bay Rally in 2003 & 2005

An article on the AEC Regals appears in the "in focus" section.

By the time this batch of AEC Regals were withdrawn, they had completed over 30 years service. Their original Harrington bodies had been replaced with new Reading bodies between 1957 and 1961. The CG-registered Regals of 1934 had the the less common 4- cylinder 64210642 type of which fewer than 200 were built as compared to the 3,500-plus of the contemporary 66210662 types. The entire batch of eight had been fitted with 6-eylinder 7.7 litre engines by 1946.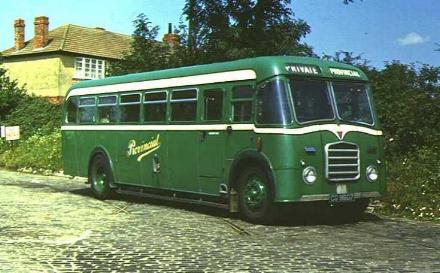 Thanks to Gerry Cork for the photograph. Click Here to go to Gerry's website
---
19 JO 5403
This bus started life as a petrol engined AEC Regent delivered new to City of Oxford Motor Services in 1932 (fleet number 16). It had a Brush body. In 1940 Provincial needed more buses to deal with the demands of the wartime traffic in a military area, and it acquired JO 5403 as part of a batch of six Oxford Regents. It was converted to open top in 1950. In 1964, due to service cuts it was deemed surplus to requiremnts and went to Colin Shears at Winkleigh where it remained for four years until bought by Nick Taylor who was a member of the Oxford Bus Preservation Syndicate. In 1972 a petrol engine was re-installed coming from an AEC Matador truck. From 1984 the bus has resided at the Oxford Bus Museum.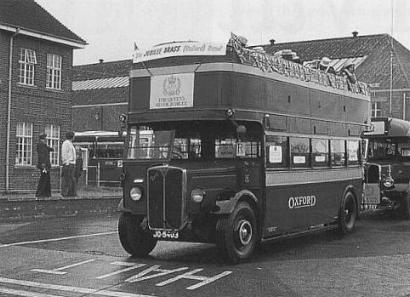 JO 5403 is seen here in 1977 at the time of the Queen's silver Jubilee
---
12 HWO 334
This bus was acquired from Red and White, along with a number of others for contract work, in 1967. It was withdrawn in the early 1970s, and is now resident (back in Red and White livery) at BaMMOT at Wythall where it is seen below. David Whitaker has contacted me regarding this vehicle. He says :- "The Red & White Guy shown on your web site was purchased from Provincial by a local enthusiast and then found its way to a scrap yard in Yorkshire. It was purchased from there by a London enthusiast and driven back stopping at my front door on its return journey. (It was in Provincial green) After a while , and a number of rallies, including Southsea, my friends and I painted it in Red & White colours and attended a rally in Cardiff. Some time later it was sold to BaMMOT. I remember it as a particularly comfortable bus to drive" Thanks David, I think this confirms that the driver trainer which was painted yellow was number 9 HWO 344.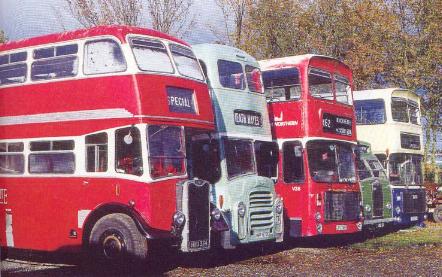 ---
77 EWO 467
This bus was the first ex Red and White Guy Arab acquired, like No 12 above, for contract work in 1965. It was new in 1942 (Red and White No 467 later L442). It was fitted with a new BBW body in 1950 and was sold to an independent Howells and Withers of Pontillanfraith in October 1963. It was from here that it was acquired by Provincial. It was withdrawn in 1970 and sent to Fort Wallington Car Breakers, like so many other Provincial buses, for scrap in September of that year. Jim Pullen owned No. 77 for a while, he put a lot of money into rebuilding the frame on the nearside, as it was rotted out and collapsing inwards. He reluctantly sold it to Doug Allen due to emigrating to the U.S.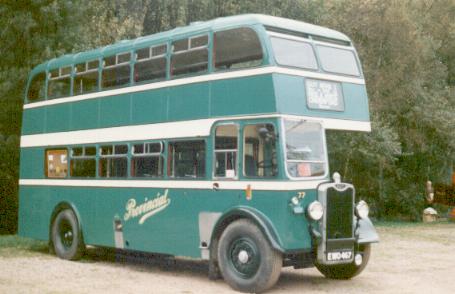 Photo supplied by Mark Gentry
---
12 ECG 112K
Provincial received two batches of Bristol RE's in 1971 and 1972. No 12 was numerically the last of the second batch. The first batch was delivered with green seating and this second batch had red, because they were a diverted order from Northern General. I always liked these RE's and believe they were much pleasanter to travel in than the Leyland National's which followed them, which at the time, I found to be much more spartan and noisy. This bus is now owned by Terry Lawson, makes regular appearances at rallies throughout the season, and is always well turned out.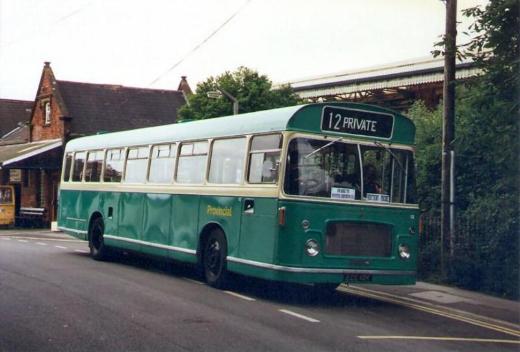 Photo Malcolm Audsley
---
20 CD 7045

CD 7045 was acquired from Southdown in 1934. It was part of a batch of six such vehicles, two were Leyland N's and four were G7's. It was something of a strange acqusition when you consider that much more advanced buses such as AEC Regent's and Leyland Titan's were now on the road elsewhere. By comparison these vehicles were positively archaic. CD 7045 was new to Southdown in 1922 and was numbered 135 in that fleet. It was re-numbered 2 by Provincial in 1936, but withdrawn in 1946. The company decided to preserve this bus and it was kept at Hoeford to be brought out annually for the Gosport Carnival where it often won prizes, it was affectionately known as "Old Bill". It was almost destroyed in the 1957 garage fire but a quick thinking employee managed to drive it to saftey. After the takeover of the company by NBC it was transferred back to Southdown in January 1970. Its current owner is Sussex Coastline Buses, part of the Stagecoach empire, who are to be praised for keeping

their heritage vehicles.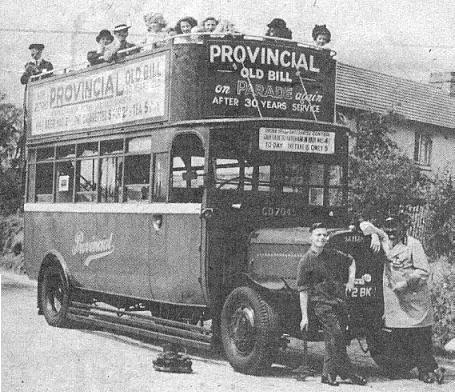 CD 7045 is seen here in one of its Gosport Carnival appearances. It is in the livery in which I remember it. Photo Portsmouth Evening News
---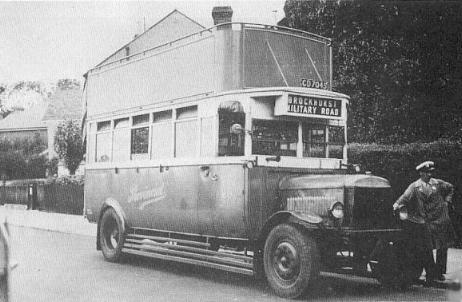 CD 7045 in an early photo. The livery appears to be Southdown with Provincial fleetnames
---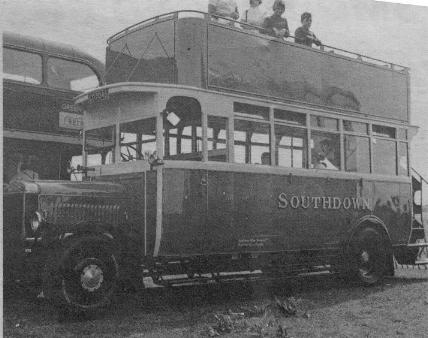 CD 7045 in its latter guise as a Southdown bus. Photo Portsmouth Evening News
---
79 XLJ 726K
XLJ 726K was delivered new to Hants & Dorset's Fareham depot in 1972, and was the last bus delivered in Tilling green & cream prior to the adoption of NBC red. Later repainted red & white (DP livery) it passed to Provincial in 1983, and lasted long enough to be repainted green! It was withdrawn in the latter months of 1983. It is currently being rebuilt by the 'XLJ Group' following vandalism which took place whilst owned by the Gosport-based Royal Marine Light Infantry Band. The 'XLJ Group' comprises of six individuals which includes Terry Lawson who also owns ECG 112K, and is organised/administered by Terry Hussey of Basingstoke.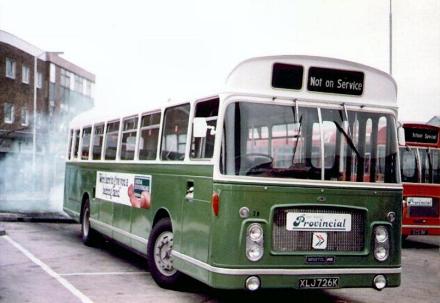 XLJ 726K seen at Gosport bus station generating plenty of smoke whilst in NBC green (Photo Malcolm Audsley)
---
40 SBK 740S

Provincial National No 40 (latterly 330) SBK 740S owned by Gordon Mills. This bus was withdrawn in 2000 and now resides in Aberdeen. It was brought back down for Provincial 125 in August 2003 and is seen here at HMS Collingwood alongside 16.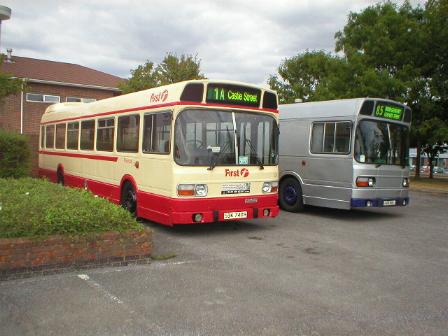 Photo Mark Gentry
---
1 A301 KJT

Preserved by John Sherwin and Darren Marshall. For details see Preservation News page.
---
2007 saw the re-launch of the ACE Cougar after it had received major bodywork attention and a repaint back into People's Provincial livery. It appeared at the 2007 Stokes Bay rally.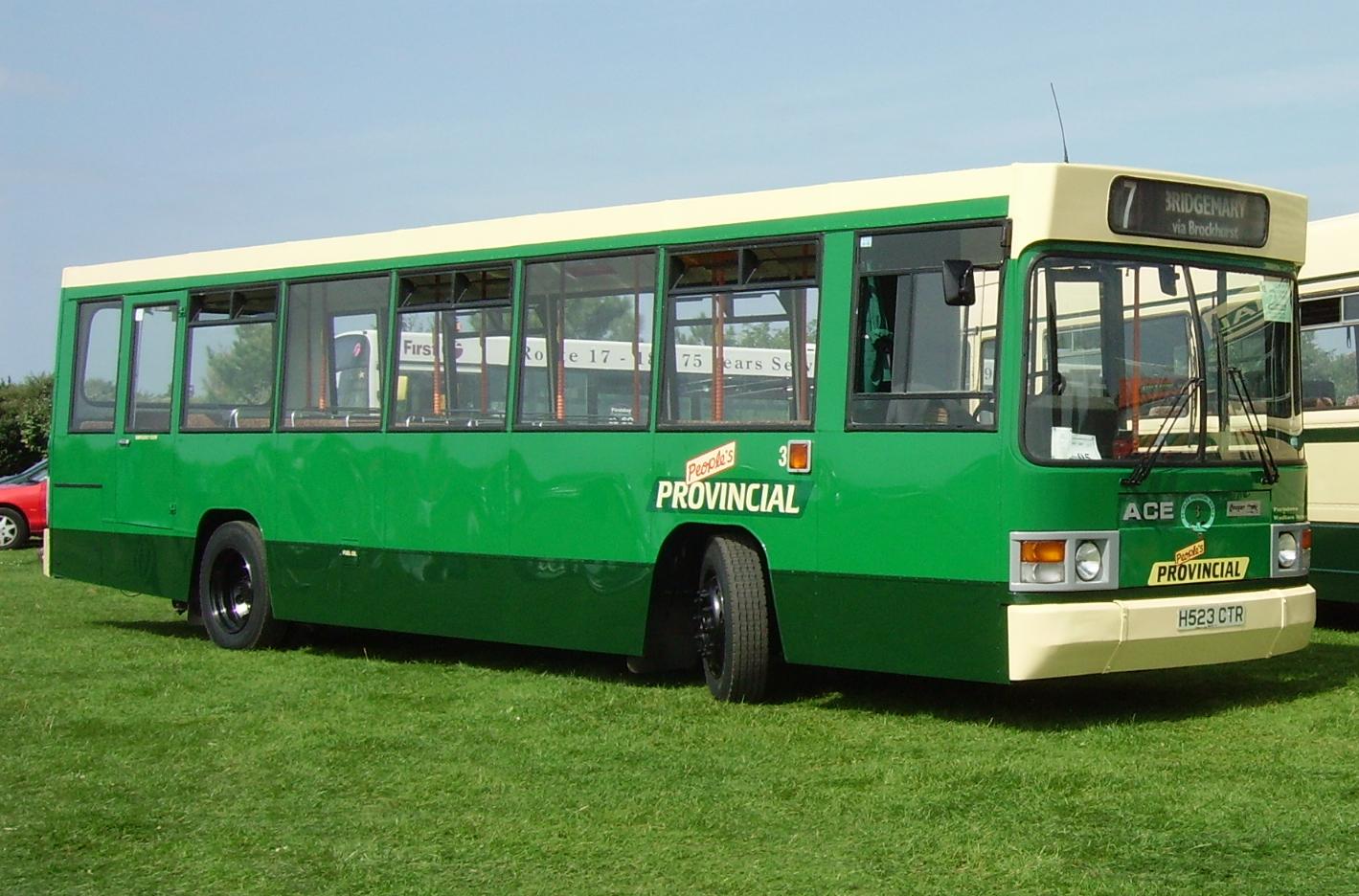 Photo by
Gary Tull
---
432 is seen here waiting to be collected from First Hampshire & Dorset Ltd Portswood, on 28 September 2007,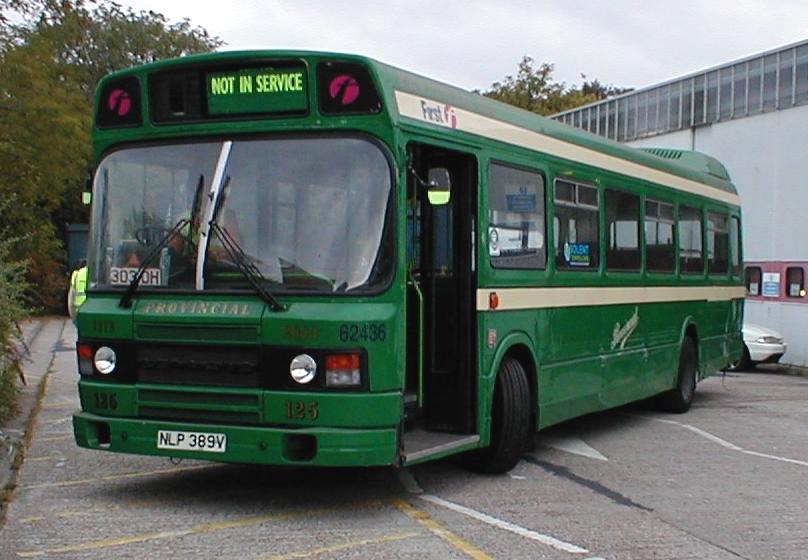 Photo by
Dave Woods